Frequently Asked Questions
How much is the service fee or diagnostic fee?
How much is your hourly rate?
We do not have an hourly rate for residential.
How much is it clean our unit?
A one-time cleaning of AC or Furnace is $80.00.  
Do you offer an Maintenance Plan?
We offer a maintenance plan that would cover both AC and Furnace for $150.00 for the year.  This plan includes a complete cleaning and troubleshooting system analysis. We will call you in the Spring to clean your AC and again in the Fall to clean your furnace.  Added discounts include, receiving 15% off any parts and labor and 5% off new equipment. You will also receive priority service, meaning if we are booked solid, we will get you in at your earliest convenience.
How can we help you?
For more information on Air Care Heating & Air Conditioning, contact our team today at (402) 827-5700. We look forward to hearing from you.
COMMON QUESTIONS ASKED IN
THE FIELD
Couldn't find an answer?
Contact our trained experts here.

Q. What do you keep your thermostat set to?
A.  Whatever temperature is comfortable to you, usually people set them somewhere between 68 and 75.
Q. What should my humidity be set to?
A.  This is a comfort setting during the winter time. Higher humidity makes it feel more comfortable, but too much will cause moisture to build up on the windows and may cause wood rot.  45% is usually the max during the winter.
Q. Should I leave my fan running all the time?
A.  This can help even hot/cold spots throughout the home, especially with a two story single system home.
Q. How often should I change my filter?
A. Despite the 90 day advertised life on expensive 1" disposable filters this is a maximum timeframe. Filters should generally be replaced between 30 and 60 days.
Q. Does my unit take Freon?
A. Freon is a brand, usually people mean to ask does it take R22. Over half the current air conditioners in homes still do take R22. The EPA has enacted laws governing the manufacture of R22 refrigerant and in 2020 R22 will no longer be manufactured.   The new refrigerant replacing R22 is R410A.
Q. How often should I clean my unit?
A. Every home is different, but I do recommend at least once per year.
Q. How much does a new one cost?
A. There are numerous factors that affect this from size to efficiency. This is where a comfort specialist can help the homeowner choose the best option for them.
"We're Rated 5 Stars For A Reason."
 Here's what our customers have to say…
"First time I used Air Care, Chris was on time, very professional and courteous, I like supporting a family business VS. The big guys. I'll definitely use them again when needed!"
"Probably the best company I've ever dealt with. Professional. Honest. Just cool to work with. Dustin was great. Professional knowledge. No high pressure sales. I will use them every time now. Can't say enough positive things!"
"Excellent service. Honest and competitive pricing. We won't shop anywhere else. We've had them do regular maintenance, minor repairs and now a whole new A/C and furnace. All with top quality."
"Chris Hughes was very helpful once again. Chris helped my family back on Christmas Eve of 2017. He was extremely informative with the issue we had and took care of it quickly. We recently experienced the same issue with our heating sensor and he was able to have a part on hand and replace it with no trouble at all. Both times Chris assisted us he was extremely professional, helpful and polite. Thanks for the help again, Chris!"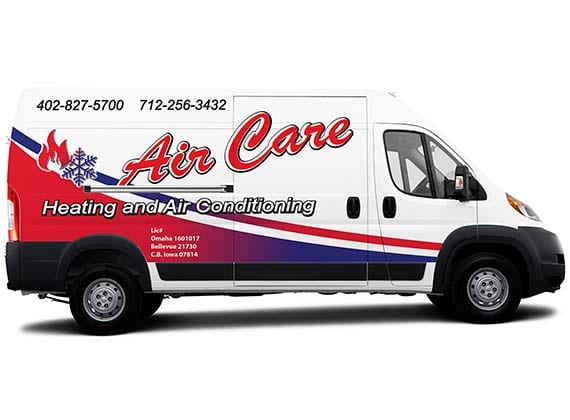 Call us today at  (402) 827-5700 to work with our team of skilled technicians on your next heating, cooling or air quality filtration project!