Residential & Commercial
Furnace & Heating Services
Securing Your Comfort
Find out why we're ranked #1 when it comes to furnace repairs, maintenance, and installation HVAC services in Council Bluffs, IA and Omaha, NE.
You can count on us for all your HVAC maintenance, installation & repair needs. Contact (402) 827-5700 to schedule an appointment or free installation estimate.
Furnace Analysis & Repair
Furnace Maintenance & Tune-Ups
New Furnace System Installation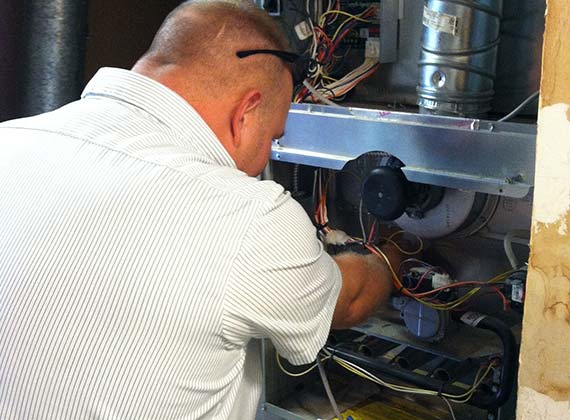 Heating Repair Service in Omaha and Council Bluffs
Once the temperature starts to drop, your comfort depends on the reliability of your heating system, and if it is more than a few years old or has an uncertain maintenance history, that could be a problem. To keep your home comfortable and safe, any heating system problems should be repaired as soon as they are discovered. Whether you have a major heating system problem, or something minor, like a broken fan belt, our team at Air Care Heating & Air can help to solve most heating system problems, including:
Startup problems or compressor failures
Airflow or heating performance issues
Clogged air filters, broken blower belts and insufficient refrigerant
Frozen heat pump coils or flue leaks
Emergency Furnace Repair Omaha
We offer 24-hour emergency furnace repair services in Omaha and Council Bluffs. Contact the best Omaha HVAC contractors for a prompt response to your air conditioning repair needs. Our certified techs have the expertise to identify and resolve problems and restore your air conditioning system to proper working order.
Common Signs of Heating System Problems
Many furnace problems do not necessarily cause a heating system to stop working completely. Often, there will be a noticeable degradation in performance and comfort, as well as several other possible symptoms. If any of these symptoms are present in your heating system, contact our team at Air Care Heating & Air for an inspection and furnace maintenance. Our team of heating system experts will diagnose the problem quickly and offer the best Omaha furnace repair company.
Common signs of heating system problems include:
Reduced heating performance or uneven temperatures
Reduced airflow in one or more rooms
Frozen heat pump coils or water leaks
Leaks from the flue system
Electrical problems or tripped breakers
Hissing from refrigerant lines
Thumping or banging from a furnace
Smoke or burning plastic smells
Cool air coming from the vents
Unusually high utility bills
Yellow furnace flames instead of blue
Pilot light or ignition failures
Buzzing or screeching from a heat pump's compressor
Tapping from the blower fan or air handler
Heating Tune-up's & Maintenance Service
Like any fuel-burning appliance, natural gas furnaces need occasional cleaning and maintenance to remain operating efficiently. Routine furnace maintenance can often spot problems before they become too serious, preventing unnecessary repairs and extending the life of your heating system. The furnace tune-up and maintenance process typically includes:
A thorough system inspection, including testing the thermostat, electronic ignitor/pilot light
Cleaning the burners and inspecting the heat exchanger and flue for leaks
Cleaning the blower fan and adjusting the fan belt
Lubricating bearings, pulleys, and other moving components
Installing a new air filter and checking the refrigerant level
Measuring return/supply of airflow and inspecting electrical components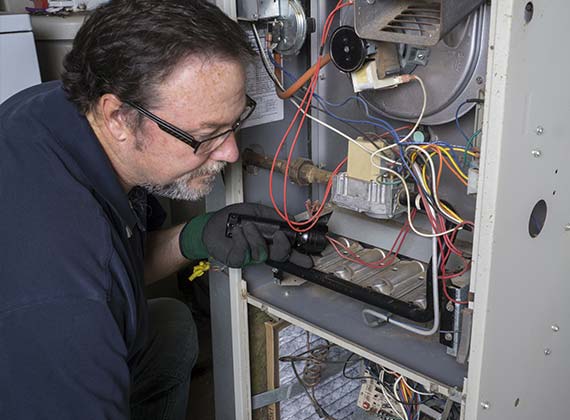 Benefits of Routine Furnace Maintenance
By having a complete furnace inspection and tune-up performed both prior to the beginning of the heating system and just after it ends, you can experience several benefits including :
Greater efficiency: With proper maintenance, the system will not have to work as hard as a poorly-maintained system to keep your home comfortable, reducing energy usage and utility costs.
Improved reliability: Frequent inspections can help to spot problems early, allowing them to be repaired before a major system failure occurs.
Lower repair costs: Repairing problems early can prevent further system damage and unnecessary repairs in the future.
Longer system life: Proper maintenance helps to avoid unnecessary wear and damage, prolonging the life of the heating system.
Better comfort: A well-maintained system can keep your home more comfortable and improve your indoor air quality.
At Air Care Heating & Air Conditioning we can keep your heating system operating at peak condition with regular inspections and tune-up's, as well as repairs. To learn more about our maintenance plans and Omaha furnace repair, Contact us today.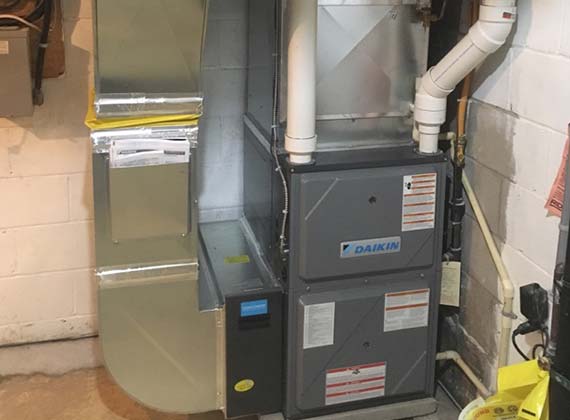 Heat System Installation & Replacement in Omaha and Council Bluffs
If your heating system is extremely old or requires frequent repairs it may be worth the investment in a new central heating system. A new system will require fewer repairs, it will cost less to operate, thanks to energy-efficiency improvements, and it will keep you more comfortable, thanks to new technologies such as zoning systems and programmable thermostats.
Here are a few signs that it is time to replace your heating system:
The system is over 10 or 15 years old
Utility bills have become extremely expensive
The system has major problems like a failed compressor or cracked heat exchanger
The system requires frequent repairs
Benefits of a Heat System Replacement
By replacing your old heating system with a new heating system you will enjoy several benefits, including:
Increased Efficiency: With new coil designs, better refrigerants and multiple-speed compressors and fans, today's heat pumps offer dramatically increased efficiency. Likewise, new furnaces use technologies like variable-speed fans, electronic ignitions and optional condensing gas systems to improve efficiency.
Improved Comfort: With multiple fan speeds, and features like zoning systems and programmable thermostats, today's heat pumps and furnaces offer better comfort while saving energy.
Reduced Noise: With multiple speeds, air handler fans can turn on and off gradually and operate at lower speeds, reducing noise.
Better Air Quality: With improved air filters and multiple fan speeds, today's heating systems can remove pollutants from the air more effectively.
"We're Rated 5 Stars For A REason."
 Here's what our customers have to say…
"First time I used Air Care, Chris was on time, very professional and courteous, I like supporting a family business VS. The big guys. I'll definitely use them again when needed!"
"Probably the best company I've ever dealt with. Professional. Honest. Just cool to work with. Dustin was great. Professional knowledge. No high pressure sales. I will use them every time now. Can't say enough positive things!"
"Excellent service. Honest and competitive pricing. We won't shop anywhere else. We've had them do regular maintenance, minor repairs and now a whole new A/C and furnace. All with top quality."
"Chris Hughes was very helpful once again. Chris helped my family back on Christmas Eve of 2017. He was extremely informative with the issue we had and took care of it quickly. We recently experienced the same issue with our heating sensor and he was able to have a part on hand and replace it with no trouble at all. Both times Chris assisted us he was extremely professional, helpful and polite. Thanks for the help again, Chris!"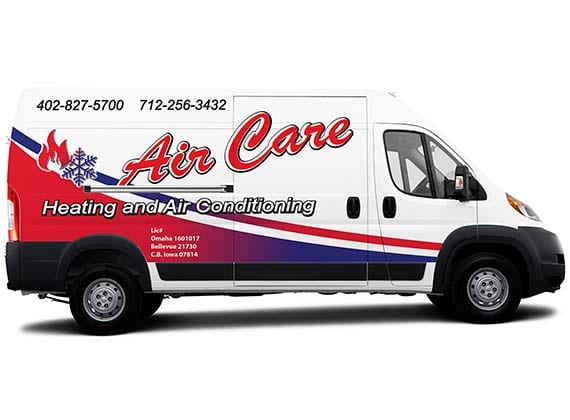 Call us today at  (402) 827-5700 to work with our team of skilled technicians on your next heating, cooling or air quality filtration project!